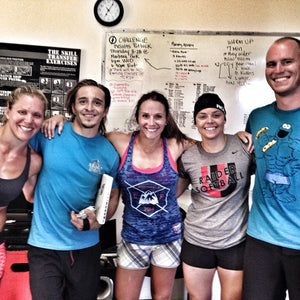 Getting Dialed
Today I woke up and met my buddy Jason at the Spokane Valley Archery Range, shot some broadheads at several distances and my bow was definitely NOT perfectly tuned, so took it inside and Josh had me paper tune again... Tear right, twist and untwist the Y-yoke, then moved the rest away from the riser, boom... bullets holes... then a double check of field point and broadhead, boom! Confidence is high, just in time.
1. Establish 5 rep max High Bar Back Squat #335
2. EMOM for 5 minutes:
Power Clean + Push Press + Push Jerk + Split Jerk #205 (70% of PJ max)
3. Conditioning:
Buy-in: 400m Run + 10 Deficit Free standing HSPU
21-15-9
Power Snatches #135
Pull-ups
Buy-out: 400m Run + 10 Deficit Free standing HSPU
17:35
Checked my Idaho deer trail cameras, only does, my 3 shooter bucks are MIA, but that means to wait for the rut, plenty of residential mountain does, and it's in a prime high ridge bedding area for does, bucks will cruise scent checking and I will be there when they make that mistake mid November. I did have several elk on the camera, but that's not my style of elk hunting, too close to town, no big bulls, and lots of hunting pressure. Looks like I will do some high country mule deer hunting Sunday morning and then out to the WA desert for some spot and stalk mule deer on Labor day. I'm getting pumped and love getting dialed.
---