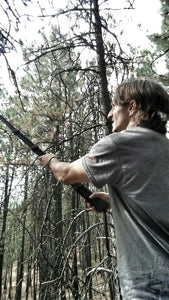 Shooting Lanes
Today was interesting training wise, my lungs still have some crud in them from being sick, so I opted to work only strength training... somehow I have a bag of ice on my wrist tonight, not sure what bugged it the most, but it was definitely not acute rather some sort of build up. I will keep it well supported and hope that it doesn't interfere with my OLY lifts the rest of the the week. 08/14/14 1. Pause Split Jerks (5 second pause in the bottom of the dip portion) 5x2 #165, 165, 185, 185, 205... These were perfect for me, challenging me to stay on my heels and keep real tall posture wise. 2. 5x5 Ring Muscle Ups (it's been 4 months since I've done these due to prior injury) 3. 5x3 Deficit Snatch Pulls #185 4. 5x8 Reverse Hyper Extensions #180 5. 3x20 Kipping Pull-ups 6. 2x20 GHD Sit-Ups Then I went out to check 5 cameras, swap out cards, cut shooting lanes, and scout some new ground as well. I did this midday in the blistering heat, hiked about 4 miles round trip.
Oh ya, here's the commercial from last month too
Wood n' Stream Maniac Boot :30 from Hardcore Pursuit on Vimeo.
---