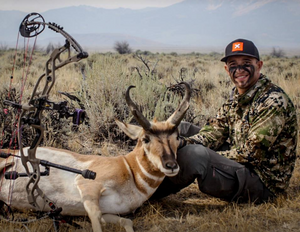 Idaho Speed Goats
8/14/2017 Monday's workout: 1. Snatch 95x5, 115x5,135x5,155x5 2. 3 rounds for time: 400m Row 10 C&J #155 15 pull-ups | 11:02 We drove down to Southern Idaho Late Monday night after work, I was just coming off a Firefighter shift and my dad has a huge workload for his job as a project manager for a local utility company. We drove until 1am and pulled off and slept in the camper for a few hours. We arrived at Antelope camp late morning of opening day, August 15th.
We spent the day exploring the unit and looking over goats trying to find their travel patterns. I attempted spot and stalk for the first 2 full days and the closet I got was 108 yards. The sage is really short, there isn't much topography as the animals were making their living off of alfalfa pivots on private land. A few times a day they would cross onto BLM for some sage and that was where you had to make your move.
I built a sage brush blind in an old wash-out and set-up on the biggest buck I could find out of about 300 antelope. The next morning he came by my make-shift blind at 46 yards with his 22 does. I was all nocked up and ready to let him have it when another hunter literally drove right up to the goats scaring them into the next zip code. I almost said something to the guys, but they never saw me in my blind so I just waited for them to jump out of their trucks and make a feeble stock attempt. The rest of the week I could never find that buck.
After a few more days of building several make-shift ground blinds, a nearby hunter who tagged out offered up his blind for me to sit which I knew was in a great spot where the speed goats slide under the fence from public to private. I sat that blind the last day and made a 40 yard shot on a great public land Idaho buck. He went about 90 yards and took his final nap in the dirt. Later that day my dad got a shot in that same blind but didn't make it happen. We had a great trip and we look forward to next year.
ElkShape Partners
Bohning Archery
Caribou Gear Game Bags
Hoyt Achery
Mtn Ops
Vortex Optics
Exo Mountain Gear
Option Archery
Easton Archery
Sitka Gear
FHF Gear
Kenetrek Boots
OnXmaps
Elk Shape Youtube Channel
Elk Shape BOOK
Phelps Quality Game Calls
---