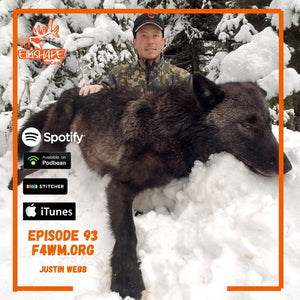 ElkShape Podcast EP 93 Foundation for Wildlife Management
There are roughly 80,000 elk hunters in Idaho - I'm asking you all to make this episode a priority.  Around 600 wolves have been harvested in the last two years in Idaho and that's largely due to trapping.  That may sound like a lot, but if you peel back some layers you'll see that 600 isn't enough to keep wolf numbers from growing.  We're already ten times over objective in Idaho. We need more Sportsmen to put their precious hard earned dollars into trapping, which is a very expensive and time consuming proposition.  If you're like me, having a young family prevents me from running a trap line and checking sets every 72 hours which is required by law.  I don't own a snowmobile and I cannot break away to dedicate the necessary time to do trapping justice.  Luckily, there's still a few trappers out there that are willing and able to put the hard work in...and we can join forces and help them recoup some of their overhead when it comes to trapping.  
Listeners of the ElkShape Podcast Exclusives:
The Elk Collective - $25 off our Digital Elk Hunting Course - elkshapepodcast
Wilderness Athlete 30% off your first purchase, discount code elkshape30  
Vortex Wear - elkshape - 20% off Apparel
Pnuma Outdoors - elkshape20 - 20% off first order
Bakcou eBikes - elkshape - $300 off any bike order
Northwest Retention Systems - elkshape - ElkShape Scout Model Only - free shipping & handling, 5 Day Lead Time  
Black Ovis - elkshape - 10% off (some exclusions apply)
Black Rifle Coffee Company - elkshape - 15% off
onXhunt - elkshape - 20% off Elite Membership
Sheep Feet - elkshape - 10% off
Foundation for Wildlife Management is an organization that helps reimburse hunters and trappers for their expenses when it comes to a wolf hunting or trapping.  Anywhere from $500-1,000 depending on the take method.  This is not a bounty, this is purely a partial reimbursement.  If you're a member, you qualify for a reimbursement and your dollars help reimburse those that are getting it done.
Just Webb is our guest today, and he's here to set the record straight on what F4WM does, why we need to manage wolves and how to take action.  Wasting time pounding a keyboard on social media is not a favorable action.  You will not change anyone's mind, so why not put your money where your mouth is and learn how this foundation is making it possible for our future generations to have wildlife resources.
F4WM INSTAGRAM
---