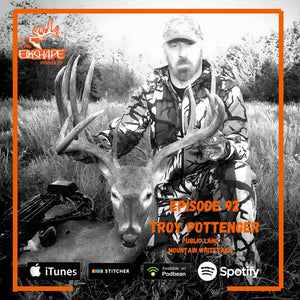 ElkShape Podcast EP 92 - Troy Pottenger Public Land Mountain Whitetails
We record with one of the most dedicated public land mountain whitetail hunters I have ever heard of.  His name is Troy Pottenger and he resides in the Inland Northwest where he's arguably the most consistent archery hunter of big whitetails.  Troy has been at this game for decades and spends so much time figuring out smart and mature public land bucks that live a recluse lifestyle.
We dive deep into his year round tactics to not only find a buck to go after, but how he meticulously sets the stage to be in position anytime during the fall archery season.  Troy is the real deal and the knowledge bombs on this cast will make you rethink some of your best practices when it comes to whitetail behavior.  
Troy's INSTAGRAM and Buck Fever Synthetics.
Articles on Troy:
Listeners of the ElkShape Podcast Exclusives:
The Elk Collective - $25 off our Digital Elk Hunting Course - elkshapepodcast
Wilderness Athlete 30% off your first purchase, discount code elkshape30  
Vortex Wear - elkshape - 20% off Apparel
Pnuma Outdoors - elkshape20 - 20% off first order
Bakcou eBikes - elkshape - $300 off any bike order
Northwest Retention Systems - elkshape - ElkShape Scout Model Only - free shipping & handling, 5 Day Lead Time  
Black Ovis - elkshape - 10% off (some exclusions apply)
Black Rifle Coffee Company - elkshape - 15% off
onXhunt - elkshape - 20% off Elite Membership
Sheep Feet - elkshape - 10% off
---