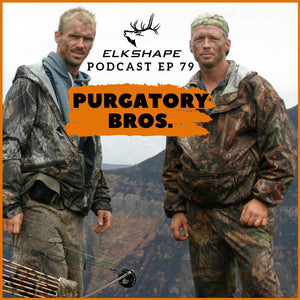 ElkShape Podcast EP 79 - Purgatory Bros
Today we record with the Purgatory Bros. -  Joe Mitchell and Jaysen Dunnavant.  Two passionate blue collar elk hunters from Oregon who have produced some amazing hunting films.  These two hard working regular guys created On Foot Films and produced 6 bad ass films that are extremely authentic.  We focus on their two first films where they bring the audience along on their self guided public land elk hunts in Oregon.  These guys are the real deal and pioneered the unscripted approach to filming elk hunts.
Here's a the link to their youtube channel https://www.youtube.com/channel/UCtLRKElprIGjkPgp3kRP_Yg
Follow them on Facebook at: https://www.facebook.com/On-Foot-Films
Here's where you can buy their DVDs https://www.onfootfilms.com/
ElkShape Camp Online is LIVE!  Learn more HERE!
ELKSHAPE Offers: 
ONXHUNT | Discount Code elkshape for 20% off Premium or Elite Memberships from the website only.
ELK 101 UNIVERSITY OF ELK HUNTING | Discount Code ELKSHAPE FOR 20% OFF
CARIBOU GAME BAGS | Discount Code elkshape FOR 15% OFF
SIBERIAN COOLERS | Discount Code ELKSHAPE2019 FOR 10% OFF
OFF GRID FOOD CO | Discount Code ELKSHAPE2019 FOR 10% OFF
BACKCOUNTRY eBIKES | Discount Code Elkshape300 for $300 off
---