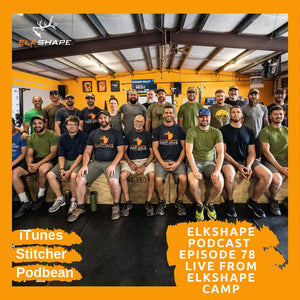 ElkShape Podcast EP 78 - LIVE from ElkShape Camp 2.0
Today's episode is chalked full of different guests from the 2019 ElkShape Camp 2.0 - we ask the campers why they decided to enroll, what they learned half way through the camp, and what they were looking forward to the next day.  The crew of athletes ranged from 20-70 years old and all had different reasons why they came to camp.  This was a insightful episode to grasp which areas you might need to be focusing prior to elk season.
ElkShape Camp Online is LIVE!  Learn more HERE!
ELKSHAPE Offers: 
ONXHUNT | Discount Code elkshape for 20% off Premium or Elite Memberships from the website only.
ELK 101 UNIVERSITY OF ELK HUNTING | Discount Code ELKSHAPE FOR 20% OFF
CARIBOU GAME BAGS | Discount Code elkshape FOR 15% OFF
SIBERIAN COOLERS | Discount Code ELKSHAPE2019 FOR 10% OFF
OFF GRID FOOD CO | Discount Code ELKSHAPE2019 FOR 10% OFF
BACKCOUNTRY eBIKES | Discount Code Elkshape300 for $300 off
---