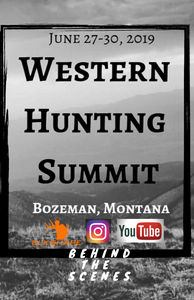 ElkShape Podcast EP 80 - LIVE from the Western Hunting Summit
This episode is designed to create action for the listener.  On the drive home from the Western Hunting Summit I record my thoughts on the event, where I saw weaknesses in some of the attendees and I challenge the listeners to identify their areas of opportunity when it comes to creating the best version of themselves.  At the summit in Bozeman, MT we had subject matter experts lecture on certain topics to help newer western hunters evolve their game faster.  Some of the areas or topics covered were:
Brian Barney - Backcountry Hunting
Ryan Lampers - Backcountry Nutrition
Hillary Lampers - Longevity
Mark Livesay - Digital E Scouting
MTN Tough Fitness - Mental Toughness
Randy Newberg - Public Lands
Dan Staton - Leveraging Hunting
This whole experience was so much fun and there's a lot of information covered, so I dive into how I got the campers to hone in on making progress everyday.  In the cast, I go over my story on fitness and hunting and how they collided to bring about ElkShape.  As a bonus, I injected about 30 minutes of Mark Livesay's lecture on creating your hunt plan properly.  Some really insightful information and we hope to get Mark on this podcast soon to dive deeper into the topic which undoubtedly gets overlooked.
ElkShape Camp Online is LIVE!  Learn more HERE!
Listeners of the ElkShape Podcast Exclusives:
The Elk Collective - $25 off our Digital Elk Hunting Course - elkshapepodcast
Wilderness Athlete 30% off your first purchase, discount code elkshape30  
Vortex Wear - elkshape - 20% off Apparel
Pnuma Outdoors - elkshape20 - 20% off first order
Bakcou eBikes - elkshape - $300 off any bike order
Northwest Retention Systems - elkshape - ElkShape Scout Model Only - free shipping & handling, 5 Day Lead Time  
Black Ovis - elkshape - 10% off (some exclusions apply)
Black Rifle Coffee Company - elkshape - 15% off
onXhunt - elkshape - 20% off Elite Membership
Sheep Feet - elkshape - 10% off
---