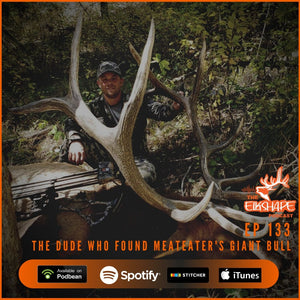 The Dude who found Steve Rinella's Washington Bull (Meateater), Solo Elk Hunting & Solo Filming Hunts
Chris Jackson is a die hard elk hunter from Southeast Washington.  He's also the owner of Solvid camera systems that allow you to self film your own hunts.  We also learn about his run in with the Meateater Inc. crew while elk hunting in Washington state.  This is a fun episode chalked full of little nuggets of elk knowledge bombs. 
You can watch the Meateater Inc. episode we refer to via Netflix, Season 8, Episode 2.
Here's the Meateater Podcast where they talk about the hunt referenced in the show.
Follow Solvid on Instagram
Listeners of the ElkShape Podcast Exclusives:
The Elk Collective - $25 off our Digital Elk Hunting Course - elkshapepodcast
Wilderness Athlete 30% off your first purchase, discount code elkshape30  
Vortex Wear - elkshape - 20% off Apparel
Pnuma Outdoors - elkshape20 - 20% off first order
Bakcou eBikes - elkshape - $300 off any bike order
Northwest Retention Systems - elkshape - ElkShape Scout Model Only - free shipping & handling, 5 Day Lead Time  
Black Ovis - elkshape - 10% off (some exclusions apply)
Black Rifle Coffee Company - elkshape - 15% off
onXhunt - elkshape - 20% off Elite Membership
Sheep Feet - elkshape - 10% off
---