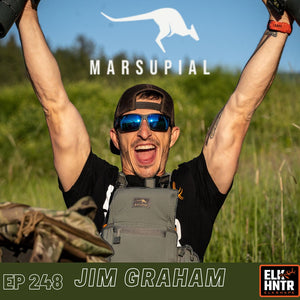 Jim Graham at Marsupial Gear
Jim Graham has done what Dan has been talking about for years. Turning your side hustle in to your full time hustle.There was not a chest pack on the market that he was happy with so he made his own. From the kitchen floor to over 30 employees.
We value building the best products possible, sewn in the USA, with even better customer service. Our goal is to make functional gear that solves problems and is built to last. We offer an unconditional lifetime warranty on all of our products and stand behind them 100%. We believe in giving back to our hunting community and supporting the organizations that embody that. 
We appreciate your support of our American dream.
- Jim & Hannah Graham
Listeners of the ElkShape Podcast Exclusives:
The Elk Collective - $25 off our Digital Elk Hunting Course - elkshapepodcast
Wilderness Athlete 30% off your first purchase, discount code elkshape22  
Vortex Wear - elkshape - 20% off Apparel
Pnuma Outdoors - elkshape20 - 20% off first order
Bakcou eBikes - elkshape - $300 off any bike order
Northwest Retention Systems - elkshape - ElkShape Scout Model Only - free shipping & handling, 5 Day Lead Time  
Black Ovis - elkshape - 10% off (some exclusions apply)
Black Rifle Coffee Company - elkshape - 15% off
onXhunt - elkshape - 20% off Elite Membership
Sheep Feet - elkshape - 10% off
Jimmy Kits First Aid - elkshape - 10% off
---