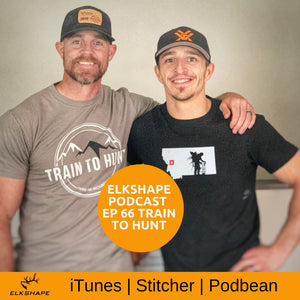 ElkShape Podcast EP 66 - Train to Hunt
Today we're recording with longtime friend Kenton Clairmont of Train To Hunt.  We have a rich history, in fact I know Kenton since 2004.  We talk about the old days when we started a gym together called CrossFit Spokane Valley (I still own and operate) and how we started Train To Hunt (he still owns and operates).  We talk about business, fitness, training, elk hunting and our families.  Kenton and I have always been able to pick up where we left off, and he's one of the most down to earth people I know.
This was a fun podcast to record, we go in great depth on what Train To Hunt Challenges are all about and how he's going to help out with next ElkShape Camp.
Check out TRAIN TO HUNT
ElkShape Camp Registration LINK
ELKSHAPE Offers: 
ELK 101 UNIVERSITY OF ELK HUNTING | DISCOUNT CODE ELKSHAPE FOR 20% OFF
FNX SUPPLEMENTS | DISCOUNT CODE ELKSHAPE FOR 15% OFF
SIBERIAN COOLERS | DISCOUNT CODE ELKSHAPE2019 FOR 10% OFF
---