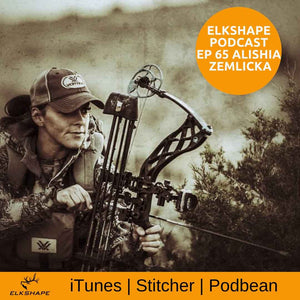 ElkShape Podcast EP 65 - Alisha Zemlicka
We are chatting with Alishia Zemlicka today.  She's the real deal when it comes to hunting and fitness.  She runs a Day Spa out of Bozeman, MT and is a nutrition coach, crossfitter, and huntress.  We have a blast talking bear stories, shed hunting, elk hunting and eating for performance.
Alishia is a die hard bowhunter, she shoots leagues, 3D tourneys, shed hunts way more than me, and consistently fills her freezer up with wild game each fall.  I really enjoy getting to know her and her energy is contagious, enjoy!
ElkShape Camp Registration LINK
ELKSHAPE Offers: 
ELK 101 UNIVERSITY OF ELK HUNTING | DISCOUNT CODE ELKSHAPE FOR 20% OFF
FNX SUPPLEMENTS | DISCOUNT CODE ELKSHAPE FOR 15% OFF
SIBERIAN COOLERS | DISCOUNT CODE ELKSHAPE2019 FOR 10% OFF
---