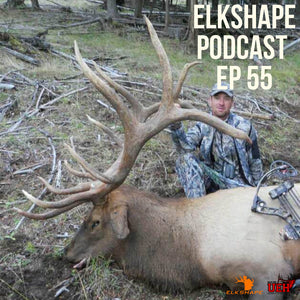 ElkShape Podcast EP 55 - Brian Rhead & the blue collar GRAND SLAM
Brian Rhead is sort of a legend in my mind.  He's a blue collar lineman by day, he hustles on the side as a taxidermist, and he's hunted around the world.  He guides in Alaska and Mexico, and he's the only guy I know that is not a millionaire that has the wild sheep Grand Slam.  He did it in 3 years on a blue collar budget.  He traded his time for guiding, taxidermy, and had some luck, but in 3 years time he did the unthinkable and harvested all 4 wild sheep - Rocky, Stone, Dall and Desert.
We brought him on to talk about his elk hunting prowess, how he's harvested 30 bulls with a bow, how he competed professionally at archery, and how he manages hunting around the world while having a wife and three kids with a blue collar salary.  Brian is pure gold, he's extremely humble, and a stone cold killer.  I hope you enjoy listening to some of his crazy stories on this episode.
ELKSHAPE PARTNERS:
ELK 101 UNIVERSITY OF ELK HUNTING | DISCOUNT CODE ELKSHAPE FOR 20% OFF
---