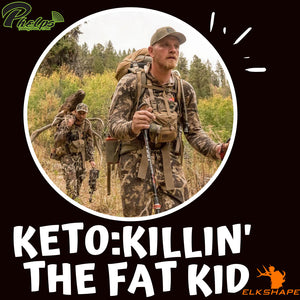 ElkShape Podcast EP 54 - Phelps, Keto, & Killin' the Fat Kid
Today we bring on Jason Phelps, owner of Phelps Games Calls and dive deep into his journey of trying to kill the fat kid.  He's the kind of guy that has the discipline to implement Keto/Carnivore principles into his way of life.  We talk about his struggle to lose weight conventional ways, how he researched keto and gave it go.  We also talk how he followed the plan through elk season and where he faced adversity.  
Jason is a normal blue collar kind of guy who manufactures game calls as a side hustle.  He loves elk hunting and trains in the name of better elk hunting.  We also get a chance to talk about application season and his current project Angry Mountain Productions - a day-by-day YouTube elk hunting series.
Here's some important links from the show:
Dominic D'Agostino on the Keto Diet
Testing Your Blood for Ketosis
ELKSHAPE PARTNERS:
ELK 101 UNIVERSITY OF ELK HUNTING | DISCOUNT CODE ELKSHAPE FOR 20% OFF
---
1 comment