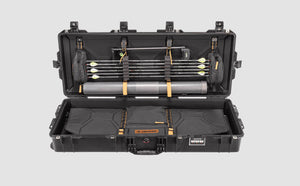 Pelican Air 1745 Bow Case
Traveling to any destination via airlines or truck can be a compromising position. You've worked your tail off to have your weapon doped and your confidence is soaring, but in the back of your mind you know that travel can be hard on your rig. Baggage handlers move luggage all day and their always in a hurry, so taking delicate care of your bow is not their number priority. If you want peace of mind, check out this crushproof, dust proof, watertight case built specifically for transporting bows and arrows. The overall design was done with precision, it has adjustable straps to secure your bow, a foam divider over the bow for added protection, and several creative storage areas for your accessories including arrows and broadheads.
The system is modular and lighter than you'd expect. It has wheels for rolling through the airport, two TSA approved locking latches, 4 stainless steel lock hasps. It is 40% lighter than its competition and anyone running a camera knows that Pelican brand is an industry leader. I liked that you could store any size of arrow, a tube of extra bullets and a Molle strap system for snugging everything down. You can store your tools and miscellaneous gear in the pouches with plenty of room to potentially store some clothing as well. At $399, it's a solid investment for the serious bowhunter.
LINK to Pelican's Website
ELKSHAPE PARTNERS
Bohning Archery
Caribou Gear Game Bags
Hoyt Achery
Vortex Optics
Exo Mountain Gear
Option Archery
Easton Archery
Sitka Gear
Kenetrek Boots
OnXmaps
Elk Shape Youtube Channel
Elk Shape BOOK
Phelps Quality Game Calls
Off Grid Food Co
FNX Supplements
---