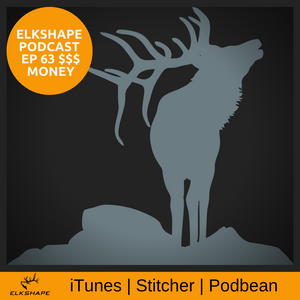 ElkShape Podcast EP 63 $$$
Welcome to the ElkShape Podcast where we discuss how to make yourself better with your time.  Preparing for elk hunting year round is our approach, and we acknowledge that discipline is the common denominator when it comes to being successful.  We talk elk tactics, nutrition, fitness and even finances.  
Today we are answering YOUR questions on money with financial coach Jeff Bynum.  Jeff was on EP 57 if you want to go back and check out some of his insights, but today we discuss ways to save for hunting, balancing your budget, and preparing for the future.  You guys sent us some awesome questions to tackle, so hopefully you get inspired to buckle down on your spending and get on the same page financially with your other half.  Enjoy.
ELKSHAPE Offers:
ELK 101 UNIVERSITY OF ELK HUNTING | DISCOUNT CODE ELKSHAPE FOR 20% OFF
FNX SUPPLEMENTS | Use discount code elkshape for 15% off
SIBERIAN COOLERS | Use discount code ELKSHAPE2019 for 10% off
---