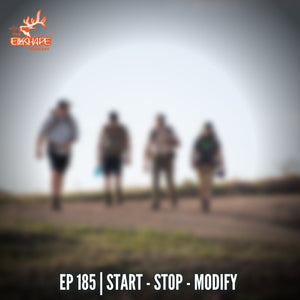 Goal Advertising! STOP, START, & MODIFY!
WHY should you advertise your goals? Well, once you speak it out loud, you've initiated accountability. I keep a small circle and making sure they know what I am setting out to do holds me accountability and opens up further discussion on what steps to take daily that will lead to the big goal.

Consistent small steps will build the necessary momentum to smash goals. So, have you identified your goals when it comes to faith, family, fitness, finances and hunting? Good, go share them after you jot them down in writing. Is your circle of friends too big, narrow that down too because we only have time and energy and choosing who you spend your precious commodities with is key.

What are you going to STOP doing as it pertains to your goal(s)?
What are you going to START doing?
What is something you're currently doing but needs to be MODIFIED?
Listeners of the ElkShape Podcast Exclusives:
The Elk Collective - $25 off our Digital Elk Hunting Course - elkshapepodcast
Wilderness Athlete 30% off your first purchase, discount code elkshape30  
Vortex Wear - elkshape - 20% off Apparel
Black Ovis
-
elkshape
- 10% off (some exclusions apply)
---