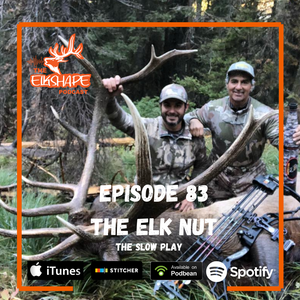 ElkShape Podcast EP 83 - The Elk Nut
Paul "The ElkNut" Medel is a dynamite public land elk hunter from central Idaho.  He and his son have been elk hunting together for several years with over-the-counter Walmart tags and between the two of them have harvested over 60 public land bulls.  Paul breaks down how to work a herd bull that doesn't have any hot cows.  This is a scenario that EVERY elk hunter will encounter and he's go a great solution.  
Learn more about ElkNut Outdoors HERE.
ElkShape Camp Online is LIVE!  Learn more HERE!
ELKSHAPE Offers: 
ONXHUNT | Discount Code elkshape for 20% off Premium or Elite Memberships from the website only.
ELK 101 UNIVERSITY OF ELK HUNTING | Discount Code ELKSHAPE FOR 20% OFF
CARIBOU GAME BAGS | Discount Code elkshape FOR 15% OFF
SIBERIAN COOLERS | Discount Code ELKSHAPE2019 FOR 10% OFF
OFF GRID FOOD CO | Discount Code ELKSHAPE2019 FOR 10% OFF
BACKCOUNTRY eBIKES | Discount Code Elkshape300 for $300 off
KENETREK GAITERS | Discount Code elkshape for $25 off
---