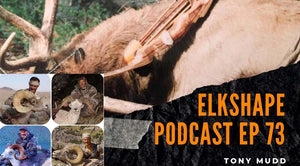 ElkShape Podcast EP 73 - Tony Mudd
Tony Mudd is almost 60 years old, he probably doesn't look a day over forty though.  He's a physical specimen and legendary archer.  He's one animal away from completing the North America Super Slam with archery equipment.  He's also one hell of an elk hunter and knows a thing or two about staying in shape year round.  We are super lucky to sit down with this guy and pick his brain on how he has been consistently successful with his bow in several different mountain ranges throughout North America.
We also announce the winner's of the ElkShape Camp giveaway with onXhunt, 5 folks were selected to receive one year memberships to onXhunt.  Check it out!
SHOW NOTES:
ElkShape Camp Registration LINK
ELKSHAPE Offers: 
ELK 101 UNIVERSITY OF ELK HUNTING | DISCOUNT CODE ELKSHAPE FOR 20% OFF
CARIBOU GAME BAGS | DISCOUNT CODE elkshape FOR 15% OFF
FNX SUPPLEMENTS | DISCOUNT CODE ELKSHAPE FOR 15% OFF
SIBERIAN COOLERS | DISCOUNT CODE ELKSHAPE2019 FOR 10% OFF
OFF GRID FOOD CO | DISCOUNT CODE ELKSHAPE2019 FOR 10% OFF
---