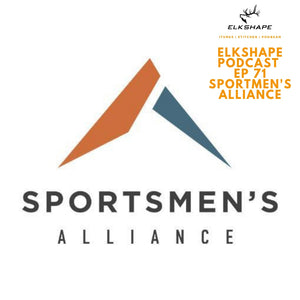 ElkShape Podcast EP 71 - Sportmen's Alliance
Today we sit down to record with Brian Lynn of Sportsmen's Alliance.  We as sportsmen face a massive challenge of removing the societal disconnect from nature.  The animal rights movement that aims to end all hunting is growing and so is their budget. Their unity, reach, and resources enables them to buy lobbyists and influencers which is why we are seeing more ballot initiatives, legal challenges and appeals, when it comes to dismantling our hunting privilege.
We discuss as hunters, how we can serve our own best interest, where we can effectively put our money and time to see the most success in the courtroom.  Sportsman's Alliance has been around for decades and their sleeves are rolled up doing their damnedest for our cause.  We hunters need to stop shooting ourselves in the foot by tearing each other down.  We continue to make ourselves look bad on social and mainstream media which ultimately leads to division at the ballot box and over legislation.  Now, more than ever we need to help the Sportsmen's Alliance and their team of lawyers fight the good fight in the name of conservation and hunting opportunities for generations to come.
Sportsmen's Alliance
901 Kingsmill Parkway
Columbus, OH 43229j
SHOW NOTES:
ElkShape Camp Registration LINK
ELKSHAPE Offers: 
ELK 101 UNIVERSITY OF ELK HUNTING | DISCOUNT CODE ELKSHAPE FOR 20% OFF
CARIBOU GAME BAGS | DISCOUNT CODE elkshape FOR 15% OFF
FNX SUPPLEMENTS | DISCOUNT CODE ELKSHAPE FOR 15% OFF
SIBERIAN COOLERS | DISCOUNT CODE ELKSHAPE2019 FOR 10% OFF
OFF GRID FOOD CO | DISCOUNT CODE ELKSHAPE2019 FOR 10% OFF
---