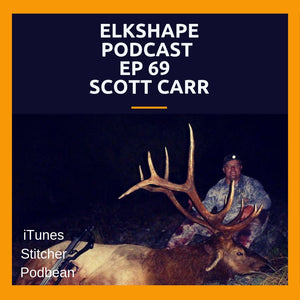 ElkShape Podcast EP 69 - Scott Carr
Sitting down with a blue collar Oregon dude that has conquered much in his life.  At age 46 Scott can back squat over 400lbs and has harvested 19 elk with archery equipment.  He wasn't always fit and out crushing Train to Hunt challenges, there was a time when he struggled with his weight almost weighing 300lbs.  Scott has an inspiring story of taking control of his life and using elk hunting to find the best version of himself.
Today we talk about his fitness journey, his long elk hunting learning curve, and how he approaches elk hunting and fitness year round.
SHOW LINKS:
ElkShape Camp Registration LINK
ELKSHAPE Offers: 
ELK 101 UNIVERSITY OF ELK HUNTING | DISCOUNT CODE ELKSHAPE FOR 20% OFF
FNX SUPPLEMENTS | DISCOUNT CODE ELKSHAPE FOR 15% OFF
SIBERIAN COOLERS | DISCOUNT CODE ELKSHAPE2019 FOR 10% OFF
---