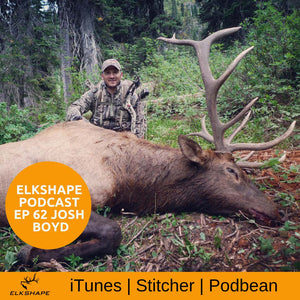 ElkShape Podcast EP 62 - Josh Boyd NW Montana
Here's what you need to know on this episode, Josh Boyd resides in Northwest Montana and is in his mid-forties.  He is probably one of the most highly regarded DIY backcountry bowhunters that I know.  He's written hundreds of articles for publications and websites on numerous topics that pertain to hunting out West.  Josh is a super humble dude, but it was very special to talk one-on-one in person and record this episode.  We were at a crowded coffee shop at the time of this recording, but the information we cover is incredible for both rookie and veteran elk hunters.
Josh works as a biologist and has logged more than a lifetime of experience in the woods.  He's a woodsman, student, father, and teacher.  Your ears need to perk up on this episode, we cover some next level elk hunting tactics.
ELKSHAPE PARTNERS:
ELK 101 UNIVERSITY OF ELK HUNTING | DISCOUNT CODE ELKSHAPE FOR 20% OFF
FNX SUPPLEMENTS | Use discount code elkshape for 15%off
---