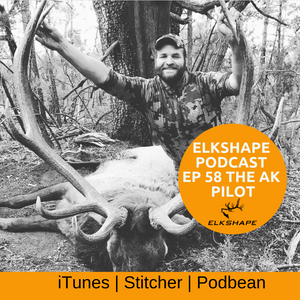 ElkShape Podcast EP 58 - Adam Grenda the Alaskan Pilot
Adam Grenda is living his dream!  He's a pilot for the US Government in Alaska, and lives in King Salmon.  He moved there from Idaho a few years back with his wife.  Since then he's made a life for himself, including purchasing his own plane and going on some epic Alaskan adventures.  His wife and friends have hunted for wolves, caribou, moose, sheep and bears.  
Adam and I met in Arizona a few years back on a late season archery elk hunt where he harvested his first branched antlered bull with a bow defying the odds.  He's a total stud and shares some of his best stories from Alaska.  We cover how to DIY hunt up there and go over his late season elk hunt in Arizona for those that might want to try that someday!
ELKSHAPE PARTNERS:
ELK 101 UNIVERSITY OF ELK HUNTING | DISCOUNT CODE ELKSHAPE FOR 20% OFF
FNX SUPPLEMENTS | Use discount code elkshape for 15%off
---