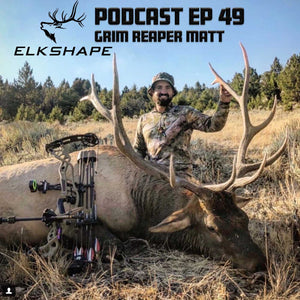 ElkShape Podcast EP 49 - Grim Reaper Matt
Today we're joined by Matt Bateman...he's a wealth of knowledge when it comes to closing the deal on any species out West.  Matt is bar far one of the most consistent elk killers you'll ever meet, and he's well versed on mule deer, pronghorn and whitetail.  Matt's freezer is always full!
Matt's day job is at Grim Reaper Broadheads, he is married, has kids and hunts on a budget.  We talk Faith, Family, Finances and discipline.  We even cover how he bounced back from shoulder surgery in the same year to getting his bull that very fall.  Matt and I talk strategy on getting in tight on elk and even cover blood trailing and recovery best practices.  This episode is packed with info, hope you enjoy.
ELKSHAPE PARTNERS
Bohning Archery
Caribou Gear Game Bags
Hoyt Achery
Vortex Optics
Exo Mountain Gear
Option Archery
Easton Archery
Sitka Gear
Kenetrek Boots
OnXmaps
Elk Shape Youtube Channel
Elk Shape BOOK
Phelps Quality Game Calls
Off Grid Food Co
FNX Supplements
---