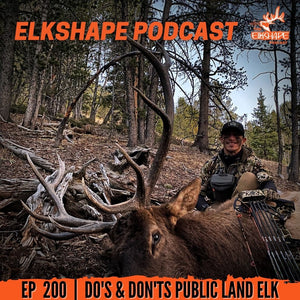 Do's & Don'ts for September Public Land Hunting || EP 200!!!!
Welcome to a very special episode, number 200!  THANK YOU for all the support this past 4 seasons of the podcast!
Today we're recording with Will Cooper of Pnuma Outdoors, check out their podcast here.
We are going to dissect the Do's & Don'ts of public land elk hunting!
Check out the lineup for the 2022 ElkShape Camp Season!  We just launched our Early Bird prices:
eScouting with Mark Livesay
Broadhead tuning with Ironwill Bill
Mental toughness with me
Elk vocalizations with Dirk Durham
Shot Process with Joel Turner
Backcountry medicine with Jimmy Kits
Fiscal fitness with Jeff Bynum
SIGN UP FOR ELKSHAPE CAMP 2022
Listeners of the ElkShape Podcast Exclusives:
The Elk Collective - $25 off our Digital Elk Hunting Course - elkshapepodcast
Wilderness Athlete 30% off your first purchase, discount code elkshape30  
Vortex Wear - elkshape - 20% off Apparel
Black Ovis
-
elkshape
- 10% off (some exclusions apply)
onXhunt
-
elkshape
- 20% off Elite Membership
---