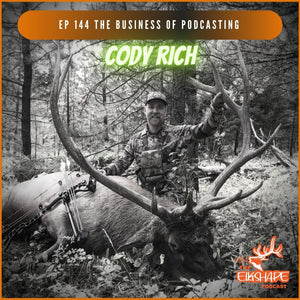 Cody Rich and the Business of Podasting
Being an entrepreneur sounds sexy, but today we dive into the behind the scenes hustle involved in creating a brand including a podcast.  We go over some best business practices and give listeners an inside look into Cody Rich and how he runs his businesses.
Check out Backcountry Fuel Box and his Podcast. 
Listeners of the ElkShape Podcast Exclusives:
The Elk Collective - $25 off our Digital Elk Hunting Course - elkshapepodcast
Wilderness Athlete 30% off your first purchase, discount code elkshape30  
Vortex Wear - elkshape - 20% off Apparel
Pnuma Outdoors - elkshape20 - 20% off first order
Bakcou eBikes - elkshape - $300 off any bike order
Northwest Retention Systems - elkshape - ElkShape Scout Model Only - free shipping & handling, 5 Day Lead Time  
Black Ovis - elkshape - 10% off (some exclusions apply)
Black Rifle Coffee Company - elkshape - 15% off
onXhunt - elkshape - 20% off Elite Membership
Sheep Feet - elkshape - 10% off
---