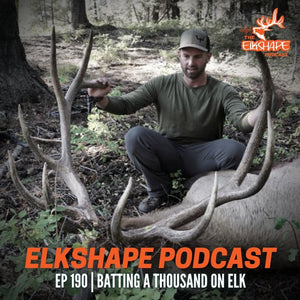 Batting a Thousand on Elk
Bringing back on a good man by the name of Dan Solsman out of Nampa, Idaho.  Dan is one of the hardest workers around, and he's no stranger to success when it comes to archery elk hunting.  In fact, he's batting a thousand by going 6 for 6 archery elk hunting on pubic ground Idaho.
In 2020, Dan was deployed overseas and missed all of hunting season while serving our country.  He talks about dialing in his nutrition and training while be deployed and coming back home in the best shape of his life.  We break down what he has tried in the past when it comes to weight loss strategies, we also cover what he's currently doing that is undoubtedly sustainable. 
Dan is the real deal and an inspiring blue collar elk hunter and family man!
Follow Dan on IG
Listeners of the ElkShape Podcast Exclusives:
The Elk Collective - $25 off our Digital Elk Hunting Course - elkshapepodcast
Wilderness Athlete 30% off your first purchase, discount code elkshape30  
Vortex Wear - elkshape - 20% off Apparel
Black Ovis
-
elkshape
- 10% off (some exclusions apply)
---