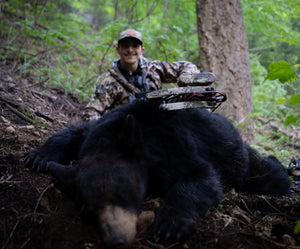 Spring Bear 2019
I know a lot of bowhunters are wanting to try spring bear, so here's a short little overview of things to consider.  This article is just a cliff notes version of all the things so more research will be required, but hopefully this can get the ball rolling.
Starting April 15th, you can start baiting for bears in Idaho.  Some areas have reduced bear tags for non-residents and some do not.  The prices are cheap either way.  I typically try to shoot at least one bear a year over bait and one spot and stalk, yes you can buy two tags in some units.  For the past 5 seasons I have baited hard and ended up only taking bears via spot and stalk.  I think baiting is really underrated when it comes to difficulty and time vested.  It's no guarantee, especially if you are trying to be selective on an older boar out of his prime.
Each hunter can buy a bait permit for around $35 and that allows them to have 3 bait tags that you hang at each bait location.  You do not have to have a bait permit to hunt over bait in Idaho, however if you are going to be helping with baiting duties then you must have a bait tag.  Our baiting schedule is twice a week, or once every 4 days.  We use 55 gallon drums chained to trees in hard to reach places that do not see much human traffic.  Water should be close by, but read the regulations as you cannot set-up a certain distance from creeks, roads, campground, parks, etc.  Know before you go!  

Baiting is sort of an art really.  There's a lot of nuances that I have learned the hard way, but I will shorten it to a major things to consider.  Bears will circle the bait always, you cannot get winded.  They will most likely only visit with little daylight remaining, which means you have to know your set-up, prevailing winds, and thermals. Bears need to find your bait and mark it as a reliable food source for weeks to come.  Putting out some items such as carp (legal) or anise extract or grease will help attract bears for miles.  Your bait needs to be something sweet like breads, bagels, and donuts.  Simple carbohydrates will do the trick, just make sure you can get some grease on the bait barrel early on to make it smell like a fast food joint.
We generally don't use tree stands for archery hunting over baits.  I don't like being near the bait until the winds are super steady and reliable.  I like to set-up a glassing station 400 plus yards away from the bait and have a route or path that allows me to sneak into the bait when the bear is hitting it.  We pile lots of logs over the small opening of the bait barrel to not only keep ravens off the food, but to preoccupy the bear when they arrive to eat.  This buys you time to size up the bear, insure its not a sow with cubs, and move in quietly for the shot.  I call this ground and pound.  Bears can't see well, true, however they can hear very well and can smell like no other.  They can pick off movement easily so as long as your are slow and deliberate on your stalk you'll be fine.
I would try to find a solid bait site and get it going strong from the get go.  Once you've had bears coming in for a few weeks, show up midday and investigate the area to find how the bears are approaching the bait, they'll make an obvious trail and leave behind plenty of sign to clue you in on their approach.  Now you can hang a stand if you must based on what the wind will do the last 2-3 hours of daylight and slip in to hunt it when your ready.  We always use trail cameras to help judge bears and learn the inventory.
A lot of bear hunting for me is centered around the long drives from home to the bait site.  I try to bait Wednesday afternoons and sit a stand or glassing point in the evening once I am done baiting and have looked at all the cameras.  My next hunt is usually Friday evening after work and Saturday evening, then back to responsibility.  This year I sat baits more than ever and saw plenty of bears, but only saw my target bears in the last remaining light of the day.  This is pretty common which is probably why I have had more success just going into the backcountry away from roads and glassing for bears.  A good glassing point can allow you to scan up to 5 miles in every direction.  You'll put together a glassing grid system that will hep you catch a bear when they finally step out of the timber.  I do not move glassing stations very often, in fact I usually sit in one spot until I find the right bear to make a move on.  Rarely will I not find a bear, but commonly I will not be able to get to the bear in time to make the stalk given the distance, terrain, or wind.  Be patient and wait for the right opportunity to strike.
For spot and stalk bears I have an extensive list of gear, but here's a few of the majors to note:
GLASS: Vortex 10x42 Razors, Vortex 65mm Angle Spotter, Vortex Rangefinder 4000, Phoneskope for iphone 10x.
CLOTHING: Sitka Layering System (Apex Hoody, Ascent Pants, Gaiters, Cloudburst Jacket and Pants)
FIXED Broadheads: Not only does Idaho not allow mechanicals, they're simply not tough enough for bears in my experience.  Yes, they can work, but ultimately a tuned bow can spit out a fierce hole from a strong fixed head.  I use Grim Reapers Micro Hades 3 Blades.
PACK: Exo Mountain Gear 3500
BOOTS: Kenetrek Guide Series
eBIKE: Just started using ebikes to legally hunt behind some locked gaits giving me great access to some country that hasn't seen pressure, total game changer.  Backcountry eBikes.
---
18 comments