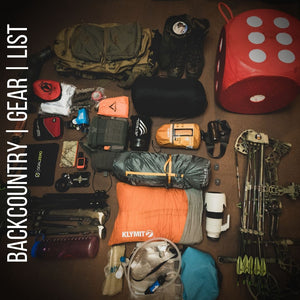 ElkShape Backcountry Gear List | Mobile Elk Hunting
Getting Mobile
Staying mobile while elk hunting is imperative for success on public land.  We are not in control of hunting pressure from easy access or even hard to reach areas.  There are more fit and adventurous elk hunters today then years past coupled with with growing grizzly and wolf populations out West - you have nomadic elk moving real estate locations often... so should you!
I like the idea of spike camping in areas that I can cover multiple drainages and basins from one central location.  I key in on areas where I camp near water and hop on ridges to cover country and find elk.  I want to be far enough from the truck to avoid average hunting efforts but not too deep where I'm stuck in a certain location.  Elk are constantly moving and I need to be able to find them each and everyday to up my chances of punching my tag.
My spike camp is something I can pack up and move when necessary.  Sometimes I'm moving camp every night and other times I can hang in an area for a few days.  The bottom line is that I am not big on 'bivy' or backpack elk hunting.  I think the convenience of camping wherever you end up at the end of the day doesn't outweigh being fast and mobile in the elk woods.  If my day pack is under 30lbs then I am able to make fast decisions and move in on elk.  If I am lugging around a giant 40-60lb pack then I am slower and burning more energy.  Energy and time are the two most precious commodities in the elk woods, so I'd rather have options that don't squander large amounts of energy and time.  I think backpack hunting is great, but doesn't work as good as a mobile spike camp.
Spike Camp Gear List (Condensed)
Morrell Big High Roller XL Target  (Stays in the truck)
Western Mountaineering Versalite Sleeping Bag 
 _________________
---
21 comments